ALL OUR HARDWARE PRODUCTS COME WITH AN INDUSTRY LEADING IN STORE 6 MONTH WARRANTY!
(excludes perishables such as coils etc)
​
LIKE WHAT YOU SEE? CALL US ON 0113 2559966 TO SPEAK TO US!
OR VISIT OUR FACEBOOK PAGE AND DROP US A MESSAGE
VOOPOO ARGUS P1S KIT
​
Introducing the Voopoo Argus P1S pod vape kit, a compact and powerful device with fixed MTL airflow, USB-C charging, and an 800mAh built-in battery. This portable vape kit offers a satisfying throat hit, customizable vaping experience, and fast charging in just 20 minutes. With its sleek design, compatibility with Argus Pods, and LED light indicator, the Argus P1S provides convenience, performance, and versatility.

The Argus P1S is an ideal step up from disposable vapes due to its simplicity and exceptional performance. It features up to 25W of power which will auto adjust based on the pod installed. The cyberpunk styled LEDs show your battery level with 3 lights being above 60%, 2 lights 30%-60% and 1 light below 30%.
​
Available in; Cyber Black, Cyber Blue, Cyber Red, Cyber White
ASPIRE POCKEX KIT
​
PockeX's discrete size and low-profile sub-ohm vapor production makes the PockeX your must-have vape while indoors or on-the-go.
Features:
Top-Fill - Easy to Fill

Replace Coils without draining E-Liquid

Top Airflow

Leak Proof Design

2ml Capacity - TPD Compliant

Nautilus X U-tech Coil: 0.6ohm 316L SS (18-23w)

Dimensions 11.77 x 1.97cm
Th PockeX introduces top-filling in an innovative new way. The atomizer screws into the top cap instead of the base of the tank. This allows you to replace the atomizer without draining E-liquid from your tank. PockeX's top fill design allows you to drop, drop our pour E-liquid into the 2ml capacity tank.
​
Available in; Black, Stainless, Rose Gold & Rainbow
ARGUS P1 KIT
​
Powered by a built-in 800mAh battery, this kit delivers a 15W power output, which is ideal for MTL (Mouth To Lung) vaping. Thanks to USB-C fast charging, it can reach a full charge in just 18 minutes so that you can spend more time vaping. The Argus P1 comes complete with two refillable pods that have built-in mesh coils to help get you started.
Thanks to inhale activation, you can just take a puff on the mouthpiece to vape and the Argus P1 will automatically create a discreet amount of vapour to deliver an MTL (Mouth To Lung) vape. This style of inhale imitates the feel of a cigarette, which is ideal for first-time switchers. The kit's GENE. AI 1.2 chip automatically adjusts the output of your vape to match the strength of your draw. There's also an adjustable airflow control on the side of the device that allows you to switch between a tighter or looser draw.
​
Available in; Black, Gunmetal, Red
ARGUS G KIT
​
The Argus G pod kit is an impressive upgrade from disposable vapes. With up to 25W of power, a streamlined design, and a single multi-function button, this Vape Kit prioritizes ease of use. The built-in 1000mAh battery ensures long-lasting use, while replaceable ITO mesh coils provide incredible flavour. For a simpler experience, the Argus G offers pods with built-in mesh coils in 0.7ohm and 1.2ohm.
The Argus pods 4-hole air inlet system creates a smoother and more flavourful vape, while 6 safety features, including short circuit and overcharge protection, provide peace of mind while vaping. the sliding airflow control on the side of the device has also been upgraded to make it less likely to adjust itself in your pocket.
The smooth polished finish and ease of use make this a great pod kit for beginners and experienced users, a great vape for nic salt or 50/50 juice.
​
Available in; Glossy Black, Satin Blue, Pink, Space Grey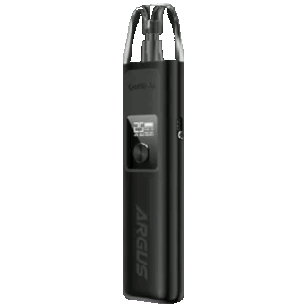 ASPIRE VILTER KIT
​
The kit's compact design makes it extremely pocket-friendly and perfect for vaping on-the-move. The mouthpiece consists of an Aspire Vilter Filter, which is manufactured from artificial paper giving it the feel and sensation of a traditional cigarette.
It's also equipped with an automatic-draw feature, meaning you simply have to inhale on the filter to get started; no fiddly buttons or settings.
The Aspire Vilter's 450mAh built-in battery provides you with enough power to vape all day, and can be quickly charged using the USB type-c cable.
The device has a power range of 10-15W, which is perfect for a flavoursome inhale with discreet clouds.
​
The Aspire ASP chipset provides all of the protection features to keep you safe while you vape. These include overheat, overcharge and short-circuit protection.
​
Available in; Black, Champagne, Red, Silver
VAPORESSO GEN AIR 40
​
GEN Air 40 Kit is powered by a built-in 1800mAh battery with 5-40W output and Type-C charging.
There are 4 LED battery indicators to show you the battery status clearly. With the AXON Chip in the mod and the SSS leak-resistance technology in the pod, GEN Air 40 Kit can always guarantee a simplified and worry-free vaping experience.
The AOP (Adjustable airflow on pod) system can provide precise airflow control and MTL & RDTL vaping.
GEN Air 40 Kit is compatible with GTX-2 0.3Ω Mesh Coil & GTX-2 1.2Ω Regular Coil and GTX-3 0.6/0.4/0.8Ω Mesh Coil, among which the newly developed GTX-3 0.4Ω Mesh Coil can provide you the authentic RDL vaping.
​
Available in; Midnight Blue, Black, Silver, Sakura Pink
ASPIRE ZELOS NANO KIT
​
The Aspire Zelos Nano vape kit is a compact option for vapers that prefer an MTL (Mouth To Lung) inhale and discreet vapour production.
Powered by a built-in 1600mAh built-in battery, you'll experience more vaping between charges and the kit can last up to a whole day on one charge.
Included with the kit is a 2ml Nautilus Nano tank that is compatible with the 1.0 Ohm and 1.8 Ohm Aspire Nautilus coils also included.
To give you the option of choosing how your kit works, the Zelos Nano features two modes. Variable Wattage mode allows for the wattage to be adjusted between three power settings, giving you control over how much vapour is produced. However, Bypass mode sets the wattage to the most powerful level based on the resistance of the coil that's inserted.
Designed for MTL vaping, the 1.0 Ohm coils will produce a little more vapour than the 1.8 Ohm coil.
​
Available in; Aqua Blue, Black, Rose Gold, Space Grey
VOOPOO ARGUS Z KIT
​
The VooPoo Argus Z vape kit is a compact and durable device powered by a 900mAh battery, providing a 17W power output. It boasts a user-friendly design with no buttons or menus, activating with inhale and featuring safety protections. The kit a refillable mesh coil pod for a wonderful MTL (Mouth To Lung) vaping experience, mimicking the draw of a cigarette. The pods have a 2ml e-liquid capacity and can be refilled from the side with leakproof structure and airflow inlet for smooth flavour. The pod's 0.7 Ohm coil with mesh design heats up e-liquid quickly for optimal flavour and best results when used with 50/50 and higher PG e-liquids.
The sleek and stylish design of the VooPoo Argus Z vape kit is not only aesthetically pleasing but also functional. This device features the innovative ITO Atomization technology that ensures a better vaping experience by providing a more precise heating, and a more consistent vapor production. It's pocket-sized and portable, making it easy to take with you on the go. The inhale activation feature ensures that the device is easy to use and the lack of buttons or menus makes it accessible for even the most technologically challenged. Additionally, the safety features such as protections against overtime, overcharging, short-circuit and low battery provide peace of mind while using the device. If you're looking for a simple, yet powerful device that can be easily carried around, the VooPoo Argus Z vape kit is an excellent choice.
​
Available in; Black, Golden, Mint Silver, Navy Blue, Rose Pink, Ruby Red, White
GEEKVAPE SONDER Q KIT
​
The Geekvape Sonder Q Pod Kit is a stylish and affordable pod system that is perfect for both beginners and experienced vapers. It features a 1000mAh battery with USB C charging and a maximum output of 20W.
​
The Sonder Q Pod Kit also features an adjustable airflow control that allows you to fine-tune the draw to your liking. This makes it a versatile device that can be used for a variety of vaping styles. This kit is inhale activated only and there are no messy or confusing menus to get in the way keeping your vaping effortless and simple. The breathing 3 colour LED light give you your battery reading with Green being above 60% blue is between 30% and 60% and red is below 30%.
​
Available in; Red, Blue, Pink, Black
VAPORESSO GTX GO 40 KIT
​
Offering a max 40 watt power output, the GTX Go 40 vape pen features no wattage control but will automatically set wattage according to the installed coil. With a minimalist design, it's sleek body features a single firing button used to inhale and lock/unlock the device. Measuring in at 110mm tall and 22mm in diameter, it's slim enough to put in your pocket or bag for taking on the go. Finished It's built-in 1500mAh battery comfortably provides the average vaper with a full days charge, and features type-C USB charging for more efficient and quicker recharging. Equipped with a 2ml capacity GTX Pod 22, which features a top-fill system and SSS leak proof technology. Compatible with the full range of GTX coils, with resistances available for both sub-ohm and mouth to lung vapers. The GTX Pod 22 is outfitted with an adjustable airflow ring, allowing you fine tune your inhale. Supplied with the device is a 0.6ohm coil.
​
Available in; Black, Blue, Grey, Red